I had the great honour of collaborating with the Koff Animation to create an epic animated official music video for the iconic Christmas song "Frosty The Snowman" from legendary artist Jimmy Durante for Universal Music.






BRIEF:


Universal Music was looking for a new angle to introduce the classic Christmas song to younger and diverse audiences. 

Bruce Resnikoff, President and CEO of UMe, the global catalogue company of UMG says: "These songs are some of the most popular year to year and we hope these videos brighten up fans holidays as well as attract new audiences across the digital platforms they inhabit. Similar to before, the video assets and creative will be deployed across UMe's holiday marketing and advertising campaigns for a cohesive look and feel and to achieve greater engagement across a broader audience."
My Animation:


00:16-00:18 |  00:21-00:23 | 00:26-00:28 | 00:37-00:45 |
01:15-01:21|  01:26-01:47 | 01:59-02:09 (kids) | 02:20-02:28 | 02:40-02:48




Credits:
Client: Universal Music Group / USA
Song: Jimmy Durante, Frosty the Snowman
Agency: Koff Animation
Executive Creative Director: Gokhan Okur
Creative Director: Alper Balkış
Producer: Tuğçe Varlıca
Producer Assistant: Tuğba Büyüker
Script: Gokhan Okur, Alper Balkış
Storyboard & Animatic & Layouts: Gokhan Okur
Character Design: Nastaran Hassani, Alper Balkış
Visual Development & Backgrounds: Zeynep Yıldız, Faruk Tariel Zorlu
Character Assets: Ayışığı Gürsel
2D Lead Animation: Hojjat Azampour
2D Cell Animation: Nastaran Hassani, Doğukan Kuru
2D Animation: Alper Balkış, Tuncay Çetin, Jack Hermes
Clean Up: Doğukan Kuru, Feyza Çakmaklı, Emre Can Bağcı
Compositing & Post Production: Alper Balkış
In 1969  Rankin/Bass Productions produced a 25-minute television special. That was a story based on the discovery of Frosty the Snowman. And that show pinned down the iconic look of the character. We had to develop new designs not far from the original version but an updated look for contemporary audiences. 
Within our research, some key concepts emerged around the themes of Frosty The Snowman: 
Satisfying simplicity of childhood, Believing in your imagination, "We don't care what grown-ups say"
by Frosty himself. 
​
As we aim to brighten up fans holidays and attract new audiences across the digital platforms; We positioned each key concept within the needs and wants of the target audience. 
​
We want to tell our story in a timeless setting and through the lens of a child to build the magical feeling more profound. 
Magical realism with 60s Americana vibes.
Dreamy, textured, soft, overall fairy tale quality to visual language. It's the imagination and dreams of an adventurous kid.
​
He is HUGE in children's eyes. That's why he looks a bit menacing first, but he has a loving smile with a tender heart. 
​
He's what you call a Gentle Giant. He is rebellious, playful, but nothing harmful and a bit clumsy. He is a natural leader, prioritise the children before himself.
Think of Baymax from Big Hero 6, Ralph of Wreck-It Ralph, Sully from Monsters, Inc. or Iron Giant
​
Making frosty huge provides a playground for the animation; while parading, kids can find exciting ways to play with him; Going on top of him, Adding new parts, Forming structures and patterns out of snow...The list goes on. We want to explore the 'heartwarming gentle giant' trope in the context of our iconic song.
​
Jimmy Durante is a significant character in the music video. He was positioned as a narrator to the story and appeared on screen in essential scenes. 
We designed a stylised version of him for the animation. And portrait him as singing the song with body gestures and lip-synch.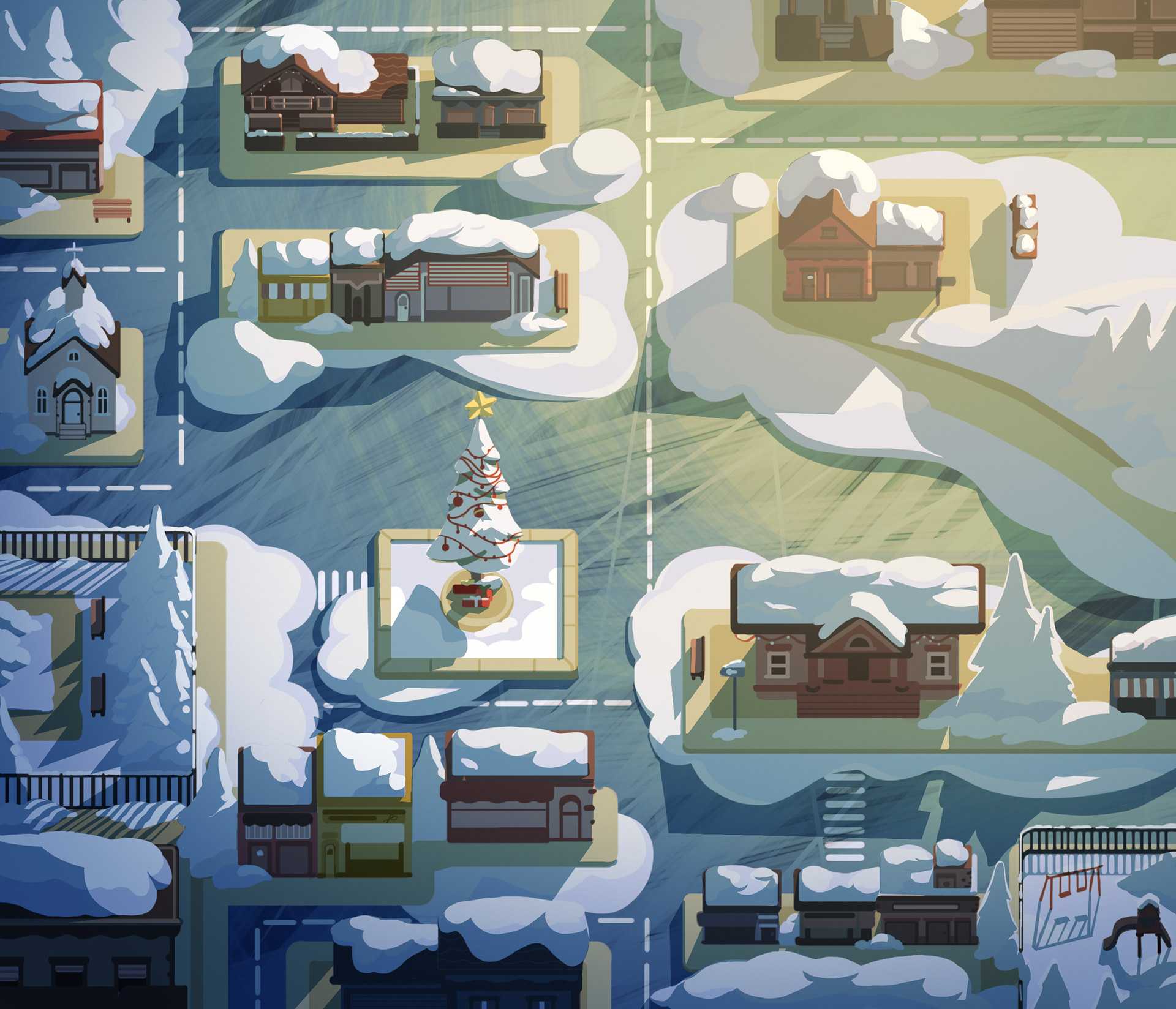 ROUGH ANIMATION & LINE TEST